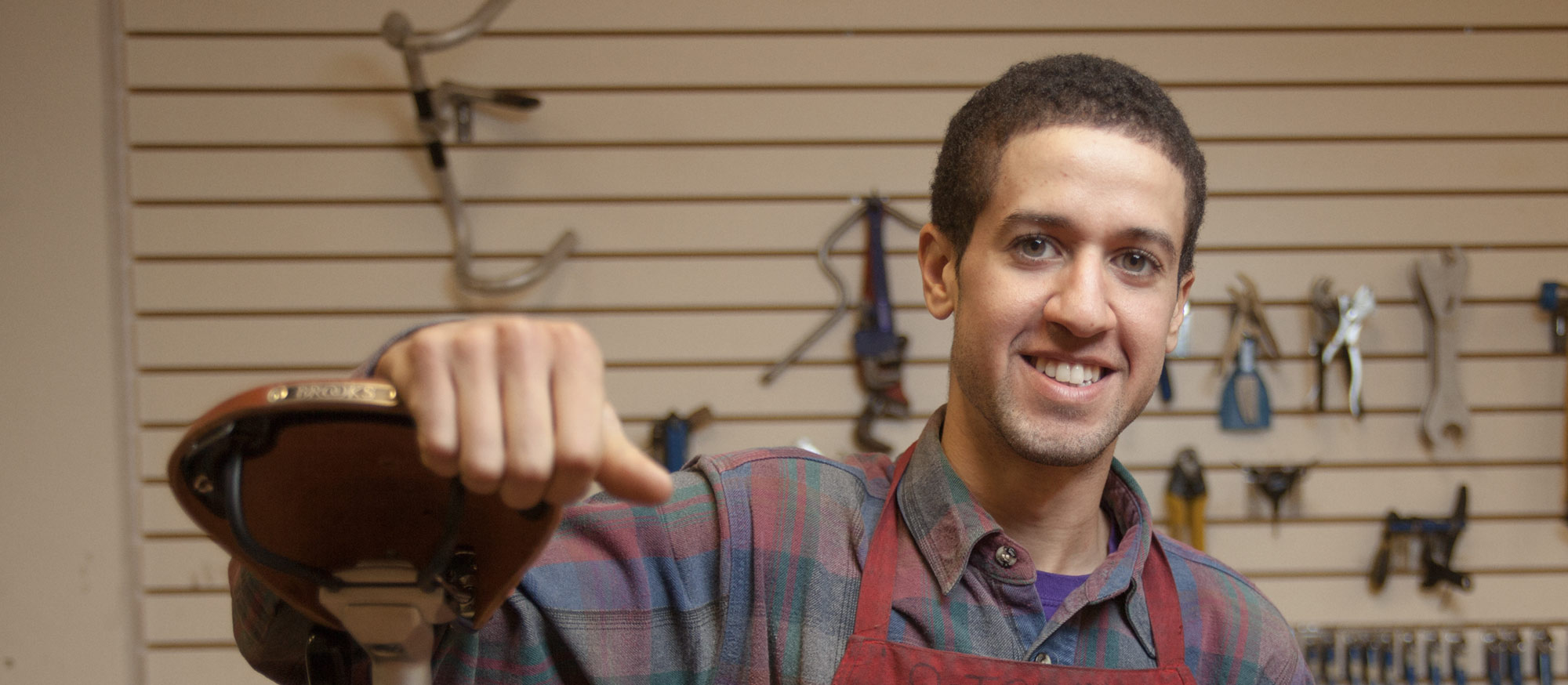 Oscar Antonio Rivera Jr., 24, is the coordinator and head mechanic for Bikes N' Roses, a youth-led bicycle program organized through the Albany Park Neighborhood Council. The community-centered program offers bike mechanic classes and bike repair through its shop at 4749 N. Kedzie.
Interview by Julia Thiel
Photographs by John Sturdy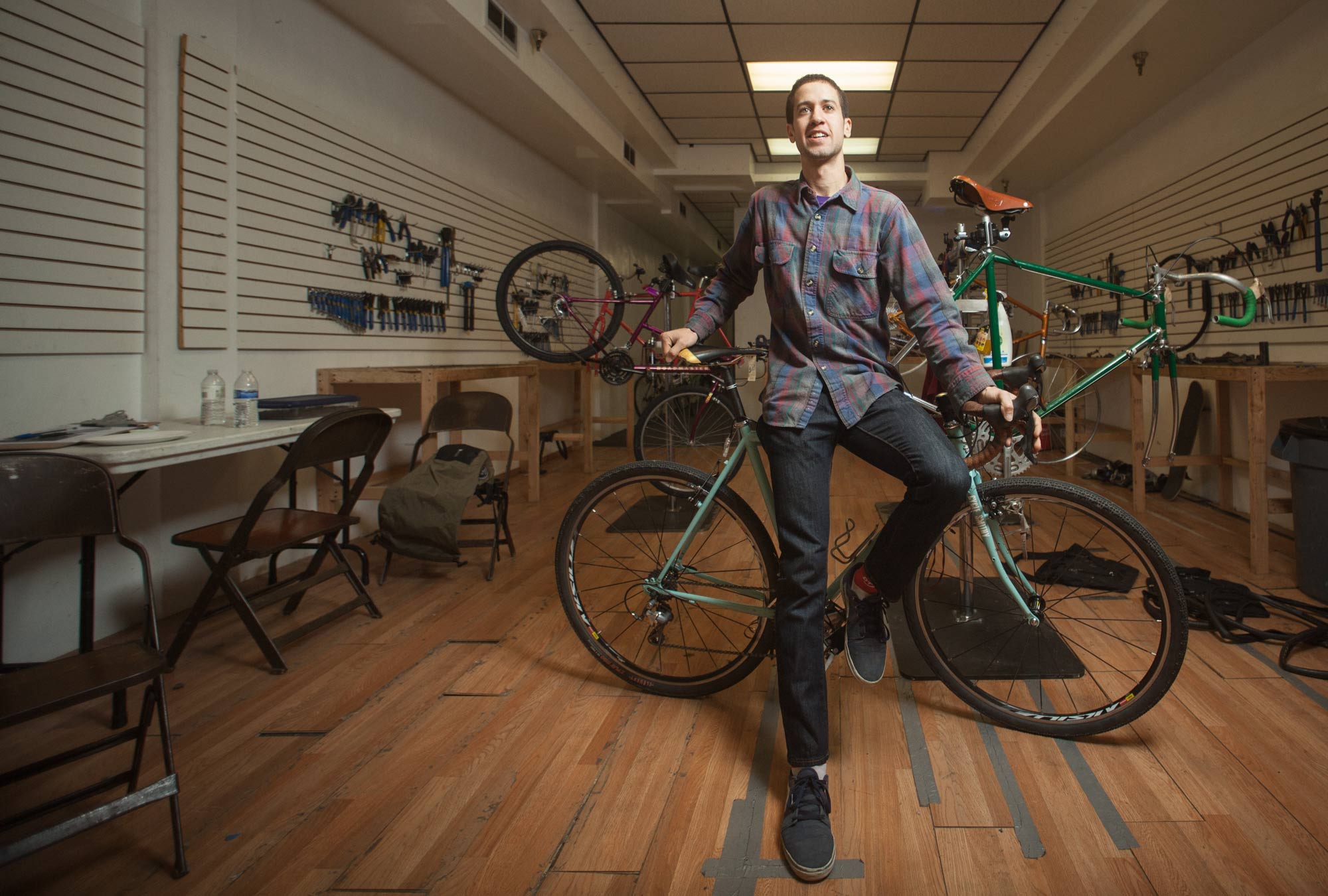 I grew up in Kelvyn Park, which is not a place where your mother would probably let you hang out outside as a kid. So the deal was, "Can I go ride my bike?" And I'd just ride far away. I would ride my bike closer to Logan Square, where it was a little more populated, more communal, less dramatic gang violence. It was safer for me to be riding around Chicago than idling in my own neighborhood.
One day my dad took me to Navy Pier, and I thought, oh man, that was easy. So I started doing that on my own. Of course, my parents didn't exactly know I was riding all the way to Navy Pier and back. Get to Navy Pier and think, how much further can I go? Soldier Field, McCormick, 31st Street—just pushing it a little further and further every time.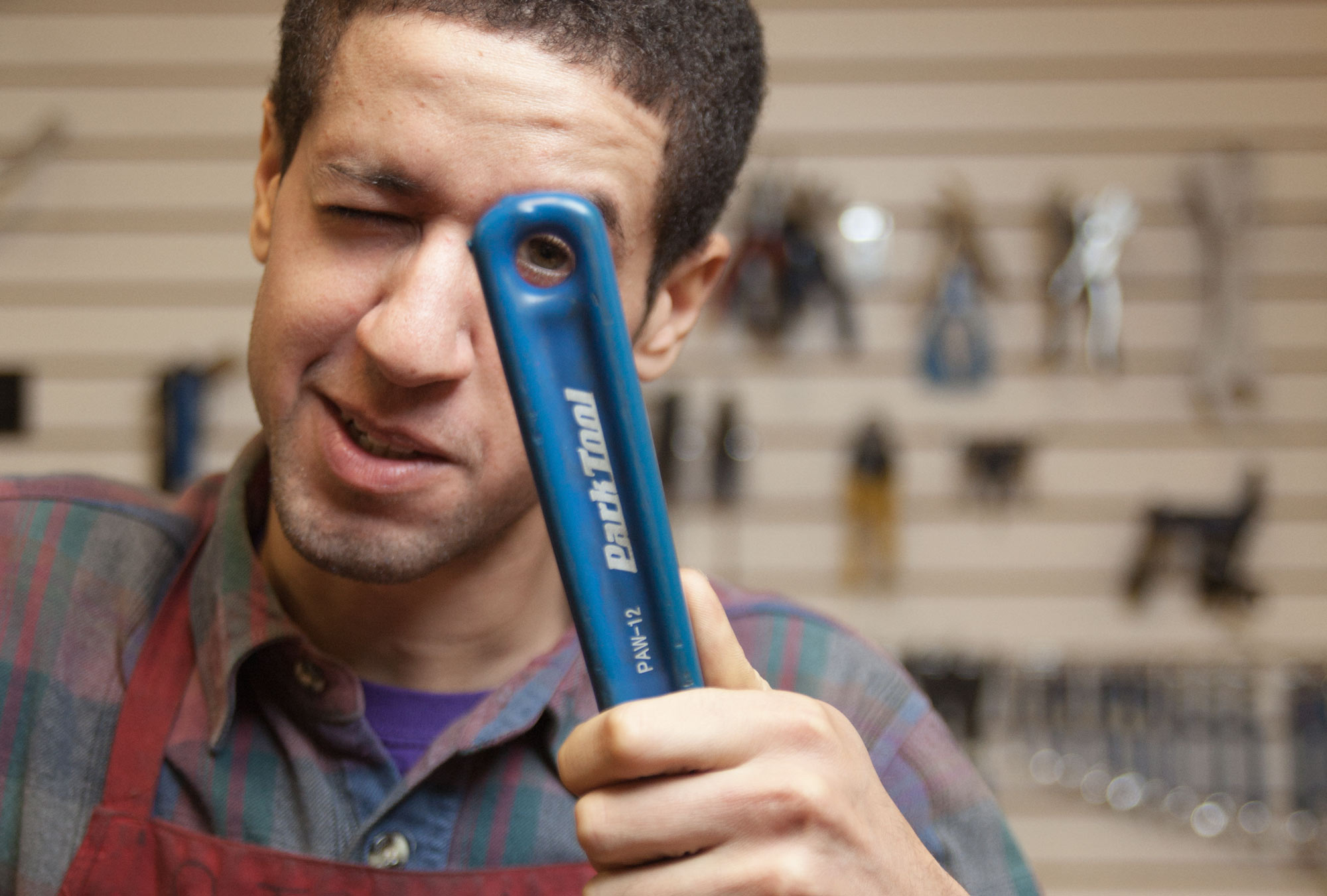 When it started, the Bikes N' Roses program physically looked like a blanket and an adjustable wrench in the park. It's a youth-led organization created by teenagers who would hang around the Albany Park Neighborhood Council. Before I got here, they would sometimes get together, go to parks, and service people's bikes for free. Just flipping them upside down and trying their best right then and there. It was trial and error.
They were around for about a year before I became a part of the team. I came in and realized that there wasn't actually an experienced mechanic working with them, so I said, I want to volunteer for you guys. And they just hired me.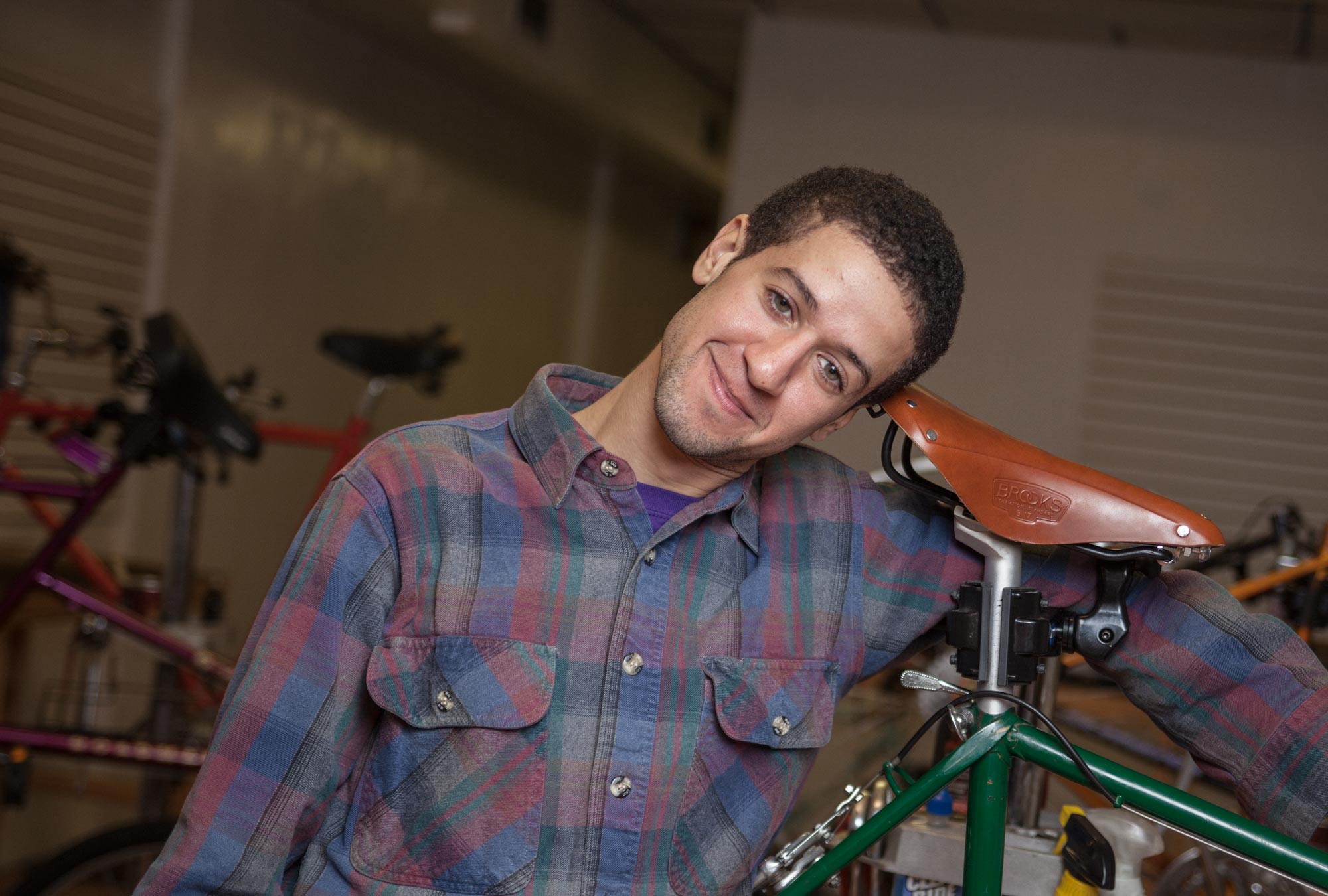 They had, on their own—a group of teenagers without a coordinator—somehow gotten a $20,000 grant from the Catholic Campaign for Human Development. The CCHD we're no longer a part of, and that's because we're part of another coalition that fights for human and refugee rights and same-sex marriage rights [Illinois Coalition for Immigrant and Refugee Rights]. We were put into this dilemma. We refused as a whole to stop supporting the coalition, which caused us to lose the funding from the CCHD.
We got a grant for a summer youth employment program, which allowed me to hire 15 mechanics between the ages of 16 and 21. They're all low-income youth. Then I cycled through about another 45 that were taking our class—so me and the 15 youth were teaching this bicycle mechanic class.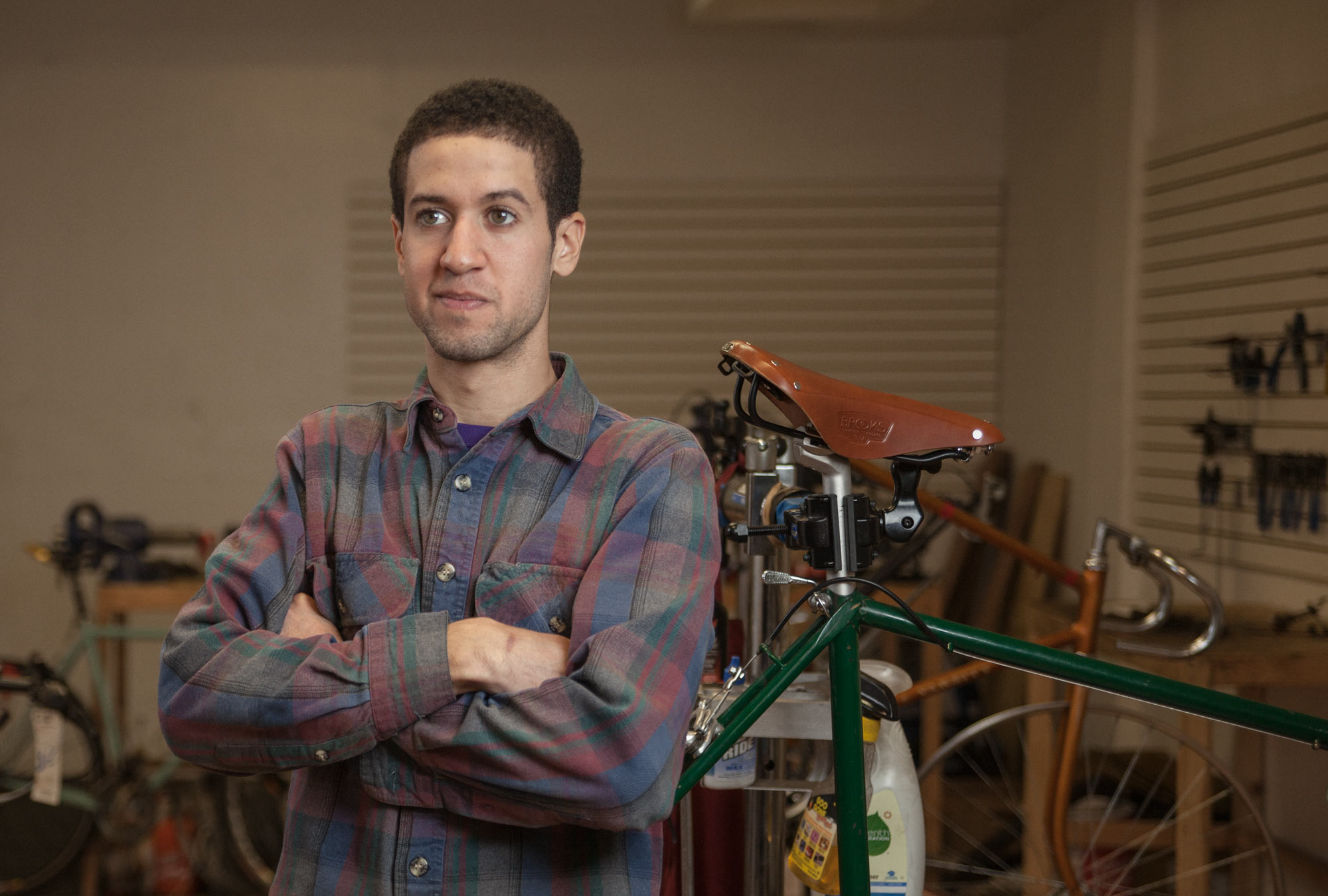 The bike shop opened up July 1. That grant money is now gone, so we're trying to create fund-raiser rides, stuff like that, to continue running the shop. Hopefully getting vendor accounts, which will allow me to sell parts and accessories as well as offer service. Now that we have a storefront, we are actually fixing people's bikes. We're a registered 501(c)(3) nonprofit organization, so we run the business off donations, pretty much.
Technically, we fix the bikes for free. If you bring your bicycle to me I diagnose it, then I tell you the suggested donation, and then there may be a mandatory donation if I need to replace parts. That's how we're running the business for now.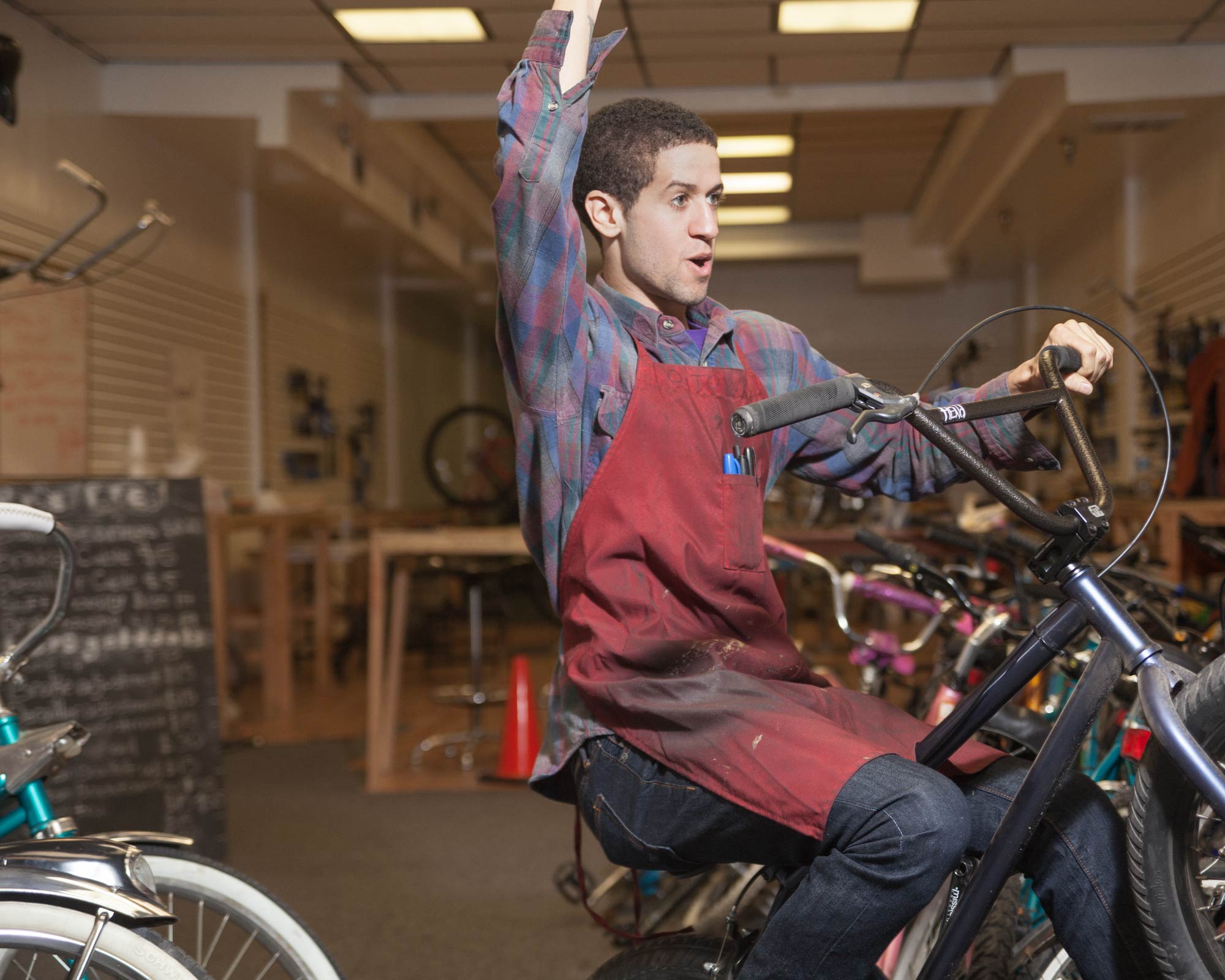 The cycling community here has definitely bumped up quite a bit, and that's because the low-income families and the immigrants that are working here and living here can't afford to go to a full-on bike shop. So their bicycles have just been sitting in a shed, the basement, the garage, not being serviced. This was a great opportunity for them to come not only support our organization by giving my youth work to do—without the bicycles, I can't teach them anything—they're also getting themselves back on the road.
On an average day now that the youth are back in high school, I show up at 11, slam bikes out for customers until about two o'clock, when the youth get here. They get to work on homework, maybe they start Frankensteining bicycles, maybe they dive into the bikes that are being serviced for customers. In my mind, I'm still a youth with them. Maybe I'm slightly more professional in the shop setting, but outside the shop, it's all fun and games. We all have a passion for the same thing, and that's just to ride. When I'm on a bicycle, I'm a 16-year-old as well.  ●